20 Jahre Porsche 911 GT3
Scroll down for english copy
Mit der Enthüllung des ersten Porsche 911 GT3 im März 1999 auf dem Genfer Salon begann für anspruchsvolle Sportwagenfahrer eine neue Zeitrechnung. Wie kein anderer Porsche 911 trug der GT3 die Handschrift der Rennabteilung von Porsche. Entwickelt vom zweifachen Rallye-Weltmeister Walter Röhrl, Renningenieur Roland Kussmaul und den Porsche-Motorsportspezialisten aus Weissach, brachte der Porsche 911 GT3 rennstreckentaugliche Agilität auf die Straße. Seitdem ist der straßenzugelassene Spitzensportler mit jeder Generation nochmals schneller, präziser und dynamischer geworden – und mit Saugmotor, Handschaltung und Heckantrieb bis heute der liebste Porsche 911 aller Puristen.
Die Rennsport-Versionen des Porsche 911 GT3 haben Motorsportgeschichte geschrieben. Neben unzähligen Klassensiegen fuhr der GT3 bei den großen Langstreckenrennen zahlreiche Gesamtsiege ein, unter anderem bei den 24 Stunden Spa, den 24 Stunden Daytona und den 24 Stunden Nürburgring, die er seit dem Jahr 2000 gleich sieben Mal gewann.
Es gehört zum Erfolgsrezept des Porsche 911 GT3, dass die Erfahrungen und Innovationen aus dem Motorsport stets in die Entwicklung der nächsten Straßenversion mit einfließen. Kein Wunder, dass rund 80 Prozent aller produzierten 911 GT3 regelmäßig auf der Rennstrecke bewegt werden.
Nachfolger des 911 Carrera RS 2.7: Der erste GT3 debütierte 1999
Mit seiner hochentwickelten Renntechnik führte der Porsche 911 GT3 kurz vor Beginn des neuen Jahrtausends jene Tradition fort, die in den 1970er Jahren mit dem legendären Porsche 911 Carrera RS 2.7 begann. Erstmals erhielt das Modell jedoch nicht die Bezeichnung "RS" für Rennsport, sondern den Namen GT3 – ein Verweis auf die GT-Klasse, in der die Motorsportversionen des Modells fahren sollten. Der wassergekühlte 3,6-Liter-Sechszylinder-Boxermotor des neuen Sportwagens leistete 265 kW (360 PS). So überraschte es kaum, dass sich der Porsche 911 GT3 seine ersten Lorbeeren schon vor der Premiere in Genf verdiente: Mit Walter Röhrl am Steuer hatte er die 20,8 Kilometer lange Nordschleife des Nürburgrings in weniger als acht Minuten umrundet – und damit eine neue Benchmark für Straßensportwagen vorgelegt.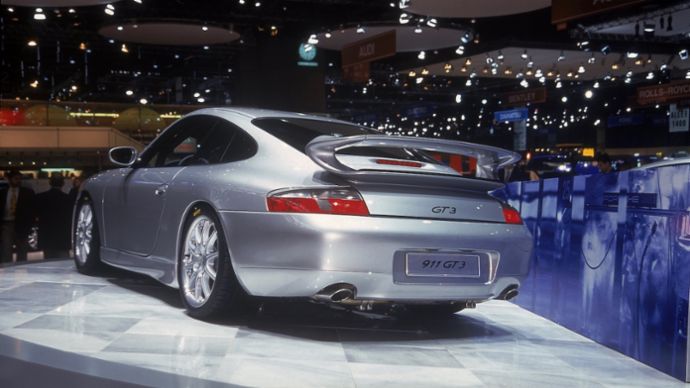 Ermöglicht wurden solche Ausnahmeleistungen jedoch nicht nur durch den rennerprobten Boxermotor, sondern auch dank eines fein abgestimmten Gesamtpakets: Das Fahrwerk war um rund 30 Millimeter abgesenkt, die Bremsen verstärkt. Das Sechsgang-Schaltgetriebe stammte aus dem Porsche 911 GT2. Getriebeabstufung, Achsgeometrie, Stabilisatoren und Federn konnten je nach Streckencharakteristik angepasst werden. Leichtbau kam vor Komfort. Markantes Erkennungszeichen seiner rennsportlichen Herkunft war der feststehende Heckflügel des 911 GT3. Wer wollte, konnte seinen 911 GT3 auch in der Clubsport-Variante bestellen, unter anderem mit verschraubtem Überrollkäfig.
Ab Mai 1999 verließen die ersten Exemplare des Porsche 911 GT3 die Produktion in Weissach. Als Homologationsbasis für den Motorsport bildete das neue Modell zudem die Grundlage für den erfolgreichen 911 GT3 Cup sowie die oberhalb angesiedelten Rennversionen 911 GT3 R und GT3 RSR, die in den kommenden Jahren im Marken- und GT-Sport große Erfolge erzielen sollten.
Neue Generationen in rascher Folge
Nach dem großen Erfolg des ersten 911 GT3 präsentierte Porsche alle drei bis vier Jahre eine neue Evolutionsstufe des Straßensportlers mit Renn-Genen. 2003 kletterte die Leistung des Boxermotors mit dem Einsatz der stufenlosen Nockenwellenverstellung VarioCam auf 280 kW (381 PS). Auf Wunsch konnte man den GT3 nun auch mit der besonders leistungsstarken Porsche Ceramic Composite Brake (PCCB) bestellen. Drei Jahre später folgte der nächste Leistungssprung auf 305 kW (415 PS). Erstmals verfügte der Porsche 911 GT3 jetzt mit dem sportlich abgestimmten Porsche Active Suspension Management (PASM) über ein aktives Fahrwerk. 2009 hoben die Ingenieure den Hubraum des Sechszylinder-Boxermotors auf 3,8 Liter und die Leistung auf 320 kW (435 PS) an. Der komplett neu gestaltete Heckflügel und ein vollverkleideter Unterboden steigerten den Abtrieb so nachhaltig, dass der Anpressdruck sich im Vergleich zum Vorgänger mehr als verdoppelte.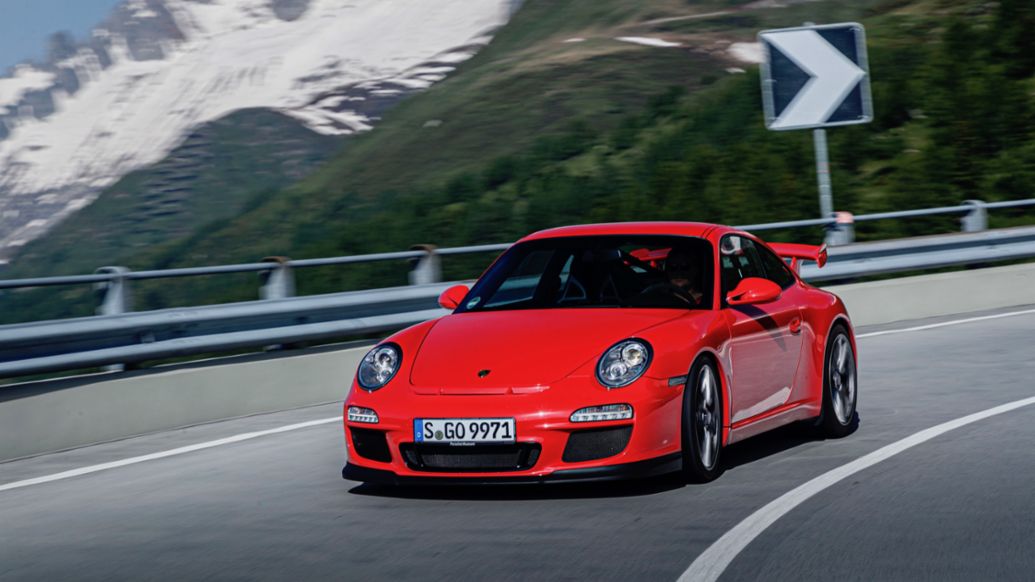 Zum 50. Geburtstag des Porsche 911 feierte auf dem Genfer Salon 2013 die fünfte Generation des 911 GT3 ihre Weltpremiere. Motor und Getriebe, Karosserie und Fahrwerk waren komplett neu. Der Triebstrang bestand aus einem 3,8-Liter-Saugmotor mit 350 kW (475 PS), erstmals verbunden mit einem Porsche Doppel-kupplungsgetriebe (PDK). Dazu kam – ebenfalls als Premiere – eine aktive Hinterachslenkung. Zum Einstand umrundete der neue 911 GT3 die Nordschleife des Nürburgrings in nur 7:25 Minuten – mehr als eine halbe Minute schneller als der erste 911 GT3 auf seiner Rekordfahrt im Jahr 1999.
Seine bislang letzte Ausbaustufe erreichte der 911 GT3 im Jahr 2017. Im Zentrum der Entwicklungsarbeit hatte der Sechszylinder-Boxermotor gestanden, dessen Hubraum auf vier Liter anwuchs und der auf eine Leistung von 368 kW (500 PS; Kraftstoffverbrauch kombiniert 12,9–12,7 l/100 km; CO2-Emission 290–288 g/km) kommt. Für Puristen hält Porsche zudem zwei Leckerbissen parat: Zum einen ist alternativ zum PDK ein manuelles Sechsganggetriebe lieferbar. Und zum anderen gibt es den 911 GT3 mit dezentem Touring-Paket, bei dem unter anderem der feststehende Heckflügel durch einen automatisch ausfahrenden Spoiler ersetzt ist – Understatement pur. Und so schließt sich der Kreis: Die Bezeichnung "Touring-Paket" ist eine Referenz an die zivile Variante des legendären Porsche 911 Carrera RS 2.7 aus den 1970er Jahren.
Celebrating 20 years of the Porsche 911 GT3
The unveiling of the first Porsche 911 GT3 in March 1999 at the Geneva Motor Show signalled the start of a new era for discerning sports car drivers. Like no other Porsche 911, the GT3 embodies the hallmarks of Porsche Motorsport. Developed by two-time World Rally Champion Walter Röhrl, race engineer Roland Kussmaul and the Porsche Motorsport specialists from Weissach, the Porsche 911 GT3 brought race track agility to the road. Since then, this road-going athlete has become even faster, more precise and more dynamic with every generation — and with a naturally aspirated engine, manual transmission and rear-wheel drive, it remains the most popular Porsche 911 among purists up to the present day.
The race versions of the Porsche 911 GT3 have written motorsport history. In addition to countless class wins, the GT3 achieved numerous overall victories in the major en- durance races, including the 24 Hours of Spa, the 24 Hours of Daytona and the 24 Hours Nürburgring, which it won seven times starting with the year 2000. It is part of the recipe for success of the Porsche 911 GT3 that the experience and innovations from motorsport are always incorporated into the development of the next road version. It is no wonder that around 80 per cent of all 911 GT3 ever produced are regularly driven on the race track.
Successor to the 911 Carrera RS 2.7: the first GT3 made its debut in 1999
Shortly before the start of the new century and featuring advanced racing technology, the Porsche 911 GT3 continued the tradition that had started in the 1970s with the legendary Porsche 911 Carrera RS 2.7. For the first time, the model was not given the designation "RS" for Race Sport, but the name GT3 — a reference to the GT class in which the motorsport versions of the model were to compete. The water-cooled 3.6- litre six-cylinder boxer engine of the new sports car delivered 265 kW (360 PS). There- fore it was hardly a surprise that the Porsche 911 GT3 had already earned its first laurels even before its debut in Geneva: with Walter Röhrl at the wheel, it completed the 20.8 kilometre Nürburgring Nordschleife in less than eight minutes — and in so doing set a new benchmark for road-going sports cars.
Such exceptional performance was made possible not just by the race-proven boxer engine, but also thanks to a precisely tuned overall package: the chassis was lowered by around 30 millimetres and the brakes uprated. The six-speed manual transmission originated from the Porsche 911 GT2. The gearbox ratios, axle geometry, anti-roll bars and springs could be adapted depending on the circuit conditions. Lightweight construction came before comfort. A distinctive sign of its motorsport origins was the fixed rear wing of the 911 GT3. As an option, customers were able to order their 911 GT3 as a Clubsport variant, which also included a bolt-in roll cage.
The first Porsche 911 GT3 vehicles rolled off the production line in Weissach in May 1999. As a homologation basis for motorsport, the new model also provided the foundation for the successful 911 GT3 Cup and the higher-positioned race versions — the 911 GT3 R and GT3 RSR, which achieved brilliant results in one-make and GT racing in the coming years.
New generations in quick succession
After the great success of the first 911 GT3, Porsche presented a new evolution stage of the road-going sports car with racing genes every three to four years. In 2003, the power of the boxer engine increased to 280 kW (381 PS) thanks to the use of the VarioCam continuously variable camshaft control system. The GT3 could also now be ordered with the ultra-high-performance Porsche Ceramic Composite Brake (PCCB) system. The next increase in power, to 305 kW (415 PS), followed three years later. For the first time, the Porsche 911 GT3 featured an active suspension with the sporty Porsche Active Suspension Management (PASM). In 2009, the engineers increased the displacement of the six-cylinder boxer engine to 3.8-litres and the power to 320 kW (435 PS). The all new rear wing and full underbody panelling produced such a sub- stantial increase in downforce that this was more than doubled in comparison to its predecessor.
On the 50th birthday of the Porsche 911 in 2013, the fifth generation of the 911 GT3 celebrated its world premiere at the Geneva Motor Show. The engine, transmission, body and chassis were completely new. The drivetrain consisted of a 3.8-litre naturally aspirated engine with 350 kW (475 PS), mated for the first time to a Porsche Doppelkupplung (PDK) dual-clutch transmission. Also for the first time, this was comple- mented by active rear axle steering. By way of introduction, the new 911 GT3 com- pleted the Nürburgring Nordschleife in just 7:25 minutes —more than half a minute faster than the first 911 GT3 on its record lap in 1999.
The latest version of the 911 GT3 was launched in 2017. The focus of development had been on the six-cylinder boxer engine: its displacement increased to 4.0 litres and the power output was 368 kW (500 PS). Porsche also had two treats for purists: on the one hand, a manual six-speed transmission was now available as an alternative to the PDK. On the other, the 911 GT3 could be ordered with a discreet Touring Package, in which the fixed rear wing was replaced by an automatically extending spoiler — pure understatement. And so things come full circle: the designation "Touring Package" was a reference to the more restrained version of the legendary Porsche 911 Carrera RS 2.7 from the 1970s.
images Dr. Ing. h.c. F. Porsche Aktiengesellschaft/ Porsche Suisse Dirk Michael Deckbar www.deckbar.de
-Ends-